Weymann Style 6 Plectrum Banjo
---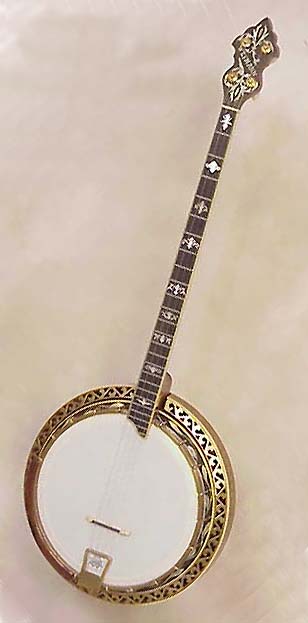 H.A. Weymann and son, a full-line instrument distributor, was established in Philadelphia and 1864 and started making banjos in 1900. Although the Weymann name may eventually be best-known as the maker of a custom guitar for Jimmie Rodgers, the Father of Country Music, the company's most commonly seen products are Jazz Age banjos, such as this Style 6 plectrum (inv. #JE2449) from around 1930.
Style 6, was one of the fancier models in the Weymann line, with walnut neck and resonator, engraved, gold-plated hardware, the "megaphonic" rim and a carved neck heel. It also sports Weymann's unusual hook-fastening system, with the tension hooks going through a "lip" extending from the rim rather than through the flange.
This banjo is in excellent condition. With original hard case it is priced at $4000.
This instrument is SOLD
For further enjoyment...
Resonator and tailpiece from end