S.S. Stewart Special Thoroughbred, Style 4
---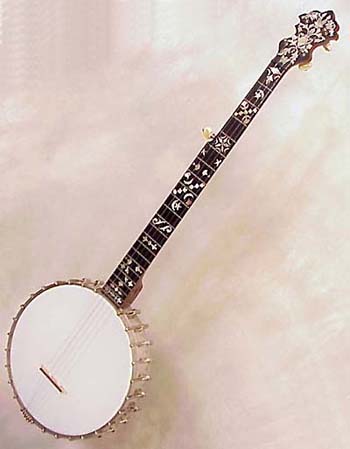 Philadelphia was to banjo players of the late 1800s what Kalamazoo or Nazareth or Fullerton was to guitarists of the 20th century. Phily was the home of Samuel Swaim Stewart (1855-1898), who started making banjos in 1878 and became not only one of the largest makers but probably the leading promoter of the banjo, publishing the first banjo catalogs, along with journals and sheet music.
This beautiful Special Thoroughbred Style 4 (inventory #JA2614) dates to the 1890s, the height of the classic banjo era, when performers dressed in tuxes and banjos were dressed up accordingly. This one sports elaborate fingergboard inlay, fancy purfling inside the rim and engraving outside, plus a carved neck heel. The head diameter is 10 1/2 inches and the scale is 26 1/4 inches.
This instruments is in exceptionally fine condition and is priced with soft case at $4000.
This instrument is SOLD
For further enjoyment...
Closeup of fingerboard near body

Closeup of fingerboard around fifth string peg

Closeup of peghead

Closeup of rim purfling