1936 Gibson Super 400
---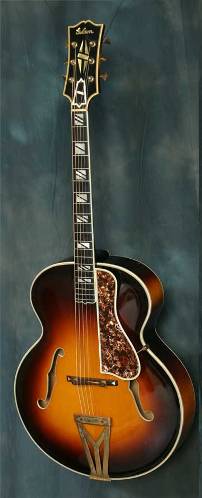 Orville Gibson invented the archtop guitar in the late 1890s and Gibson engineer Lloyd Loar improved the design in the 1920s by replacing the original oval soundhole with f-holes. Gibson owned the market for archtops until 1931, when Epiphone challenged Gibson with a full line of archtops under the Epiphone Masterbilt banner, several of which were 3/8" wider than Gibson's largest model, the L-5.
Gibson responded with more 16" models, but after four years of head-to-head competition with Epi, Gibson decided to blow the competition out of the water with an all-out, "over-the-top" guitar with flashy slashed-block inlays,a mosaic-pattern pickguard, and a body that was not just one but two inches wider than the 16" L-5. With case, the price was $400 and Gibson named it, appropriately, the Super 400.
This beautiful Super 400 has a factory order number from 1935, the first year of the model, and serial number from 1936. It feautures a spectacular "blistered" maple back. In excellent condition with original leather-covered case it is offered at the reduced price of $15,000.
This instrument is SOLD
For further enjoyment:
Full front with case
Pickguard
Tailpiece
Headstock
Back view
Heel cap
Side view