Orville Gibson Lyre Mandolin
---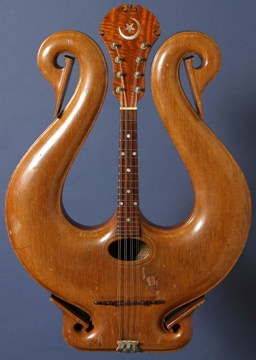 Of all the unusual instruments made by Gibson in the 112 years since Orville Gibson strung up his first creation, the lyre mandolin may well be the most intriguing. Orville thought enough of it to use it to frame a photo of himself on the paper labels of his instruments, and the Gibson company continued to use that image on labels until 1908.
This lyre mandolin was made some time between 1898, when Orville was granted his only patent, and 1902, when the Gibson company was formed. The label includes the patent date, along with the claim that his guitars and mandolins are "acknowledged by leading artists as world beaters."
This instrument illustrates the principles Orville set down in his patent. He said that ideally the back, sides and neck should be of one piece, but he admitted that this was impractical, and he also noted that instruments should be free of braces and cleats and anything else that would impede the natural vibration of the wood. This lyre mandolin has a one-piece walnut back. The top is book-matched spruce. The rims are carved from a single piece of walnut, and it extends all the way up the back of the neck as a support for the neck and the peghead (the volute is part of the rim piece). The neck and peghead are one piece, with a separate fingerboard, peghead veneer, and a piece grafted onto the upper part of the headstock (above the tuners). Inside, there are no braces, no endblock, no neckblock and no kerfing.
Although this is the only Orville lyre mandolin we have ever seen, he did make at least one other. The one pictured on the label differs slightly from this one - the headstock shape is different, and the one on the label has supports between the "swans" and the headstock.
This instrument was more than just a showpiece. It was played, as indicated by the small area of pickwear through the finish and some minor wear on the frets. SOLD
This instrument is SOLD
For further appreciation...