1924 Gibson F-5
---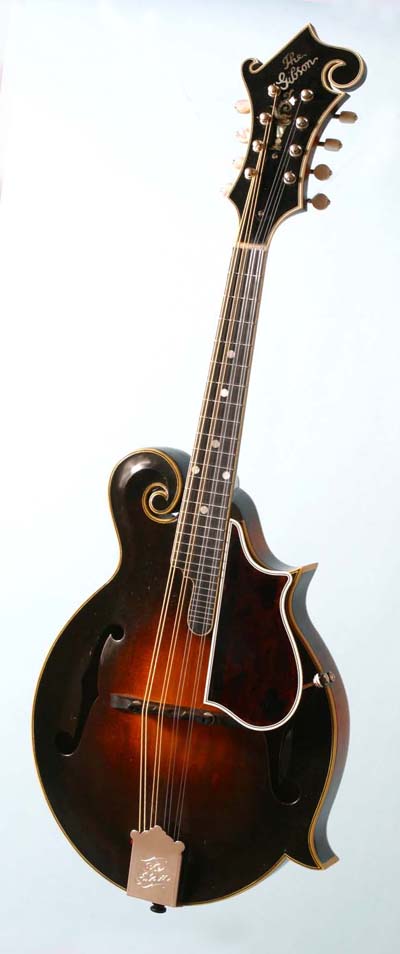 Acoustic engineer Lloyd Loar gave Gibson's mandolin family instruments a makeover in 1922, and the result was the Style 5 Master Model line, led by the F-5 mandolin. Introduced at a time when the jazz banjo was the dominant stringed instrument in popular music, the F-5 (or any new mandolin design, for that matter) had little chance of success. Its chances were further diminished, ironically, by its rich, powerful tone, which to the classical mandolinists of the day did not sound as bright and clear as Gibson's oval-hole F-4. At the end of 1924 Loar left Gibson, and it would be another 15 years before Bill Monroe introduced bluegrass music to the world and demonstrated the full capabilites of the Gibson F-5.
This example (inv. #MF6762) is in excellent condition, with the original Virzi device inside the body, new Gibson vintage replica tuners and new Gibson Master model tailpiece and pickguard. The Loar signature and date as well as the model number and serial number have been scratched off the labels, but the serial number has been inscribed on the back under the serial-number label, and this number is consistent with other labels signed by Loar on Dec. 1, 1924. This mandolin had been with the same owners for 65 years until 2002. With hard case, it is offered at $90,000.
This instrument is SOLD
For further enjoyment...
Close of body
Treble f-hole area
Bass f-hole area
Tailpiece
End of fingerboard
Full fingerboard
Headstock
Back of headstock
Back of neck
Full back view
Back of body
Close of upper treble point