Faron Young Commemorative
---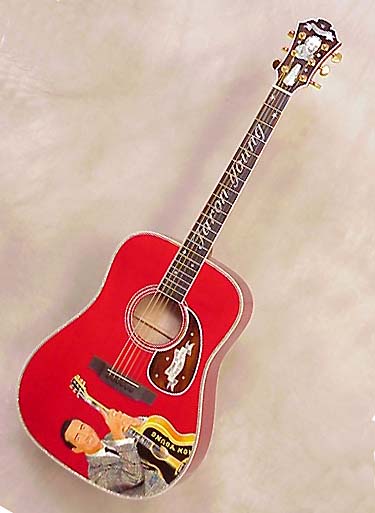 The late Faron Young, aka the Singing Sheriff, may be one of the more under-appreciated country artists. He could sing honky tonk, as he demonstrated on his first No. 1 hit, "Live Fast, Love Hard, Die Young," in 1953, and he could be smooth, as evidenced by his last No. 1, "It's Four in the Morning" in 1971. In between, he recognized and recorded such classic songs as "Sweet Dreams" (pre-Patsy Cline) and "Hellow Walls" (written by Willie Nelson).
The Tennessee guitar company pays tribute to this Hall of Famer with a hand-painted commemorative model (Inv. #AM4637). The backj and sides of this dreadnought are of maple. It is #006 in a limited edition and has been reduced from $4375 to $3500.
This instrument is SOLD
Also check out the Jim Reeves commemorative model.
For further enjoyment...