1957 Gretsch Chet Atkins Hollow Body (6120)
---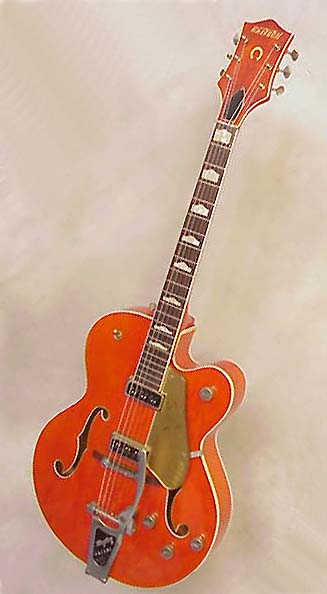 The original Chet Atkins Hollow Body -- also known by its model number, 6120 -- had western-style appointments in almost every available space, but by 1957 Chet had brought the appearance of his guitar more in line with his low-key demeanor and playing style.
The last vestiges of the West on this beautiful 6120 are the horseshoe inlay on the peghead and the rural-looking signpost that bears his signature on the pickguard.
The model does still retain the functional necessities that Chet specified from the beginning: a metal nut and bridge for better sustain, plus a Bigsby vibrola.
This guitar (inv. #EG2869) is in exceptionally fine condition with a Gretsch hard case(SOLD).
This instrument is SOLD
For further enjoyment...