Paul Bigsby's Volume Pedal
---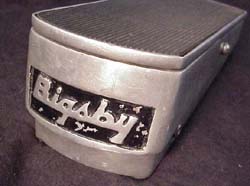 Paul Bigsby of Downey, California, had a hand in some of the most important innovations in the history of the electric guitar. The solidbody electric he built for Merle Travis in the late 1940s predated Fender's more famous models (and Fender's six-on-a-side peghead shape, too). The Bigsby "vibrola" unit marked a major improvement in what became the "whammy bar" and it is still in production (under the ownership of Gretsch). The early influential pedal steel players ordered their instruments from Bigsby.
A volume control pedal was essential to the pedal steel sound, and Bigsby made that, too. This particular pedal was his personal unit that he used as a demo, It has "Loaner" in black marker on both sides. It has its own case, which includes a Bigsby catalog, Paul Bigsby's business cards, photos of him and his wife, his Masonic membership card, handwritten correspondence and a Bigsby coaster.
This unique set (inv. #MC0011) of memorabilia from one of the most important figures in guitar history is in excellent condition and has been reduced from its original price of $10,000 to $7,500.
This instrument is SOLD
For further enjoyment...
Front view
Top view
With top offset
Side view
Bottom
Bigsby decal on bottom
Carrying case
Case decal
Unit in case
Documents
More documents