Perry Bechtel's 1955 D'Angelico
---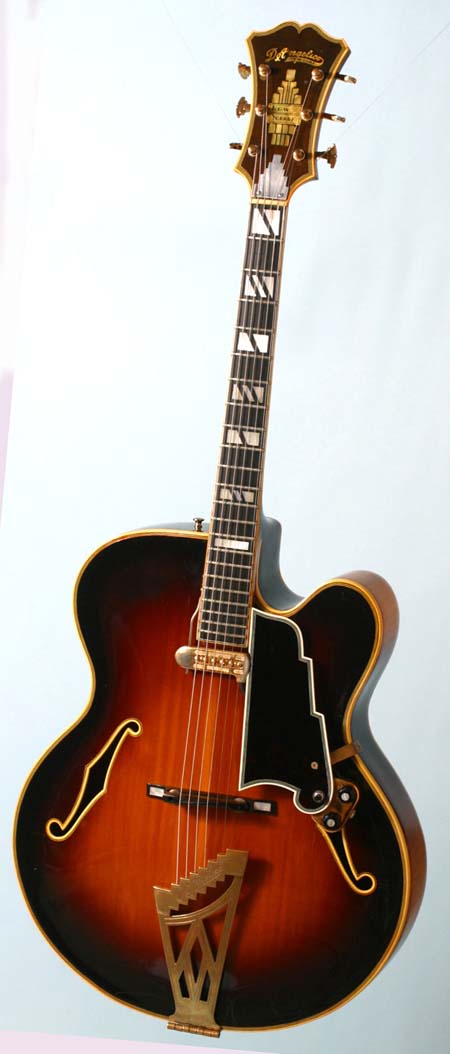 Perry Bechtel's name is familiar to guitar historians as the banjo player from the late 1920s who asked Martin to make him a guitar with 14 frets clear of the body, a request that led to the OM line and eventually to the introduction of 14-fret necks across the entire Martin line. In the 1930s, as archtop guitars rose in popularity, Bechtel played a Gibson archtop and was pictured in Gibson catalogs.
In the last stage of his long performing career he switched instruments again and played this 1955 D'Angelico New Yorker cutaway. The guitar comes with several photos of Bechtel, a clipping of a newspaper article and a letter from Mrs. Bechtel.
This instrument (inv. #AR3701) is in excellent condition, with an old, professional refinish that looks very close to the original. It is equipped with a floating DeArmond pickup. In original hard case with zipper cover, it is SOLD.
This instrument is SOLD
For further enjoyment...
Close of body
Tailpiece/pickguard area
Fingerboard
Headstock
Back of headstock
Back of neck
Back of cutaway area
Full back view
Publicity photo
Later photo
Newspaper article