Gibson L-5C with double McCarty pickups
---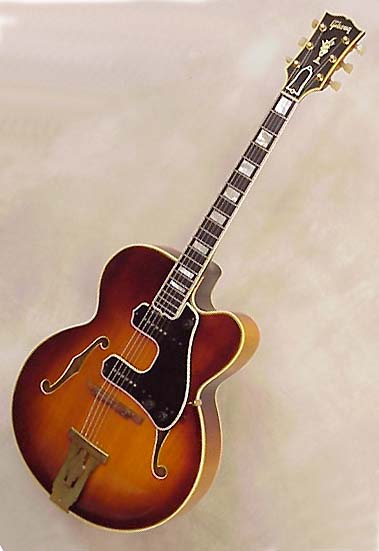 During Ted McCarty's tenure as president of Gibson he designed such classics as the ES-335 and the Korina series (Flying V, Explorer and Moderne), but he first applied his engineering background to the design of a pickguard-mounted pickup so that owners of acoustic archtops could electrify without cutting a hole in their guitars.
Although it was originally catalogued simply as the "conversion" pickup and later the "fingerrest" pickup, collectors refer to it today as the McCarty pickup. It was available with either one or two non-adjustable units. The owner of this 1954 sunburst L-5C, the cutaway version of Gibson's finest 17"-wide acoustic archtop, picked a two-pickup version. In VG+ condition, with the original brown hard case (with pink plush lining), it is priced at $8000.
This instrument is SOLD
For further enjoyment...
Close of body near fingerboard