1907 Gibson Style U Harp Guitar
---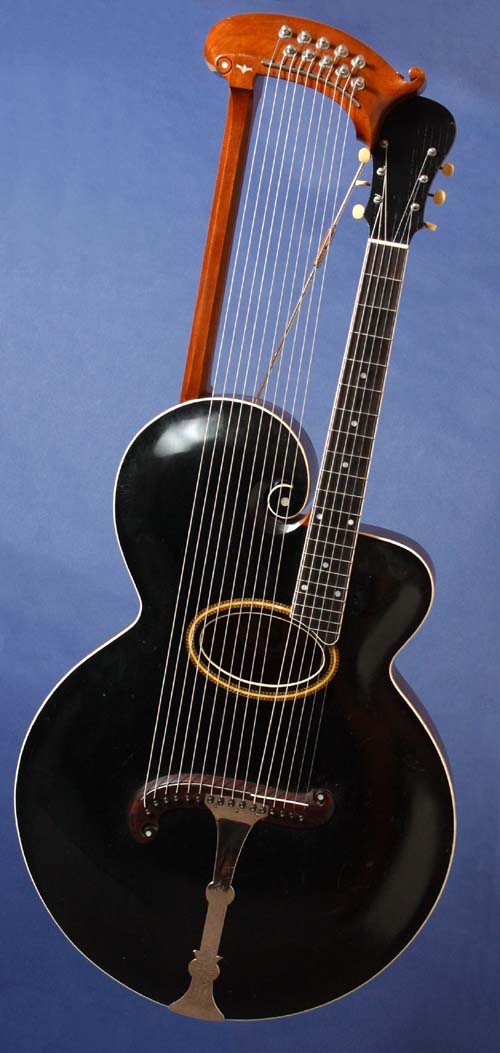 Early Gibson catalogs predicted the harp guitar would make the conventional six-string guitar obsolete in the same the piano had made the harpsichord obsolete. The harp guitar's sub-bass strings did offer guitarists greater range, with the ability to provide ringing bass tones in such non-guitar-friendly keys as E-flat, C-sharp, etc. Today's guitarists will appreciate the low-D that is available without having to tune down. Unfortunately, the size and expense of the harp guitar hindered its acceptance and it faded from production after World War I.
This Style U (the only one of Gibson's four original harp guitar models to survive more than a few years) is an early version, with 21-inch body width, walnut back and sides and a glued-on bridge. The label is the style, featuring the image of a lyre mandolin and a photo of Orville Gibson.
This instrument (inv. #AR3785) is in excellent condition. With no case, it is offered at $7500.
This instrument is SOLD
For further enjoyment...
Close of body
Tailpiece
Label
Soundhole
Headstock
Back of headstock
Back of neck
Full back view
Back of body