1924 Gibson L-5, Lloyd Loar
---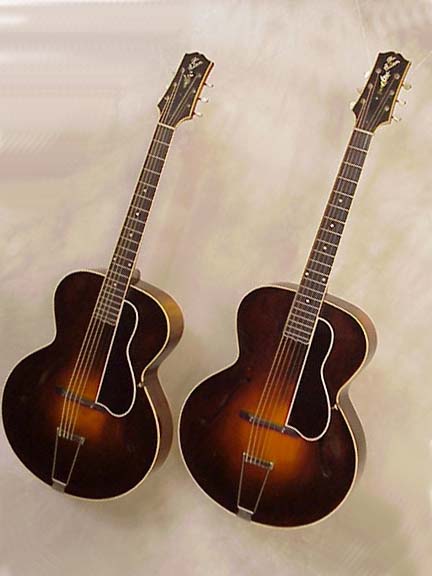 For rarity and historic importance, few instruments can surpass an L-5 guitar signed by Lloyd Loar. Darryl Wolfe's F-5 journal has documented only a dozen Loar-signed L-5s, and we were fortunate enough to acquire two of them at the same time. Both were signed by Lloyd Loar on Dec. 1, 1924, and the serial numbers are consecutive. Both are fitted with the Virzi Tone Producer that Loar was so fond of.
The Loar L-5 is, of course, the original f-hole guitar�the wellspring not only for Gibson's later, larger L-5s and Super 400s, but also for the classic models of other makers such as Epiphone and D'Angelico.
Loar created his masterpiece mandolin family instruments in the middle of a banjo boom, and the high-priced L-5 guitar was almost completely ignored until later in the 1920s when Eddie Lang and other guitar pioneers recognized its powerful potential. Although there is photographic evidence of an L-5 in late 1922, no surviving instrument dates to earlier than 1924.
The L-5 on the right, inv. # AR3511, is in VG+ condition with some playing wear and is SOLD.
This instrument is SOLD
Front view
Closeup of front
Back view
Closeup of back
The L-5 on the left, inv. #AR3514, is in exceptionally fine condition and SOLD.
Front view
Back view
Close of front
Treble-side f-hole
Bridge area
Pickguard
Tailpiece patent date
Upper treble bout
End of fingerboard
Peghead
Back of pegheadBack of neck
Neck heel area