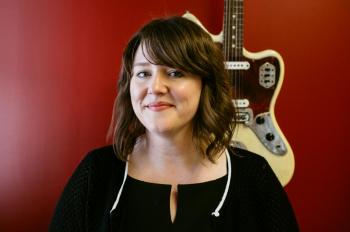 Biography:
Sarah returned to Gruhn Guitars as Operations Manager in 2012. She wore many hats here from 2003 to 2007, the most notable being in the role of George's assistant. Her previous tenure prepared her for the varied tasks at hand today including website management, new instrument purchases, HR duties and public relations. She also handles Gruhn's social media accounts.

She received a bachelor's degree in Music Business in 2004 from Middle Tennessee State University and spent five years a block away from Gruhn's Broadway location assisting the Senior Vice President and General Manager of the Nashville Symphony.

After spending her earliest years in Austin, TX, Sarah grew up on a farm in scenic Thompson's Station, TN. She got her first electric guitar in 1994 and currently plays an SG Standard and Guild Thunderbird in Take the Power Back, a Rage Against the Machine tribute band.