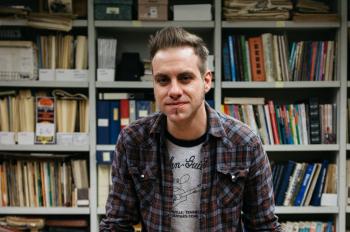 Biography:
Lloyd hails from Clarksville, Tennessee, and joined the Gruhn sales staff in 2011. His passion for playing and collecting vintage guitars began right here at Gruhn Guitars where he made his first instrument purchase - a 1963 Fender Jazzmaster - at the young age of 15.

Lloyd is very passionate about all types of vintage electrics but has a specific focus on vintage Gretsch, Gibson, and Fender instruments. Raised with a background in bluegrass, he also holds a strong knowledge of vintage Martin and Gibson flat-tops.

Though Lloyd is in Sales, his primary focus each day is buying and consigning instruments for the shop. When he's not busy buying, selling, and studying vintage instruments (which is rare) Lloyd plays guitar and sings for the rock and roll band Opossum Holler and space folk band Sad Party.