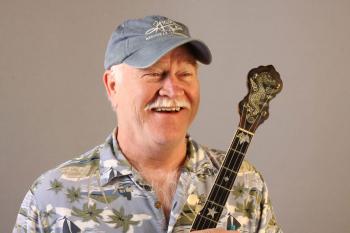 Biography:
Calvin's not an old-timer yet, but his banjo playing is. If you hear wisps of pre-Earl two-finger, three-finger and clawhammer styles in the background at Gruhn's, that's Calvin. He has an extensive collection of five-strings dating from the 1870s (back in the gut-string days) to 1915, and he's Gruhn's in-house expert on classical and old-time banjos.

Calvin was born in Memphis and started playing bluegrass banjo in the early 1970s. After three or four years, he moved on to "better" styles. He earned a degree in biology from Middle Tennessee State University, and then worked at the Memphis Zoo for 10 years before moving to Nashville in 1985 to work at Gruhn's. Except for an 18-month stint at the Nashville Zoo, he's been at Gruhn's ever since.

As a musician, Calvin has played onstage with Grandpa Jones, recorded with Chet Atkins and Mark Knopfler, played on a Mountain Dew commercial and won several state championships (plus several second-place finishes in national championships). He was an organizer of the Tennessee Banjo Institute, a large gathering of all types of banjo stylists, held in 1988, 1990 and 1992. He also enjoys sailing his Catalina 22 and is currently pursuing a degree in culinary science.