1994 Gibson Custom Shop 'Suroeste' Les Paul
---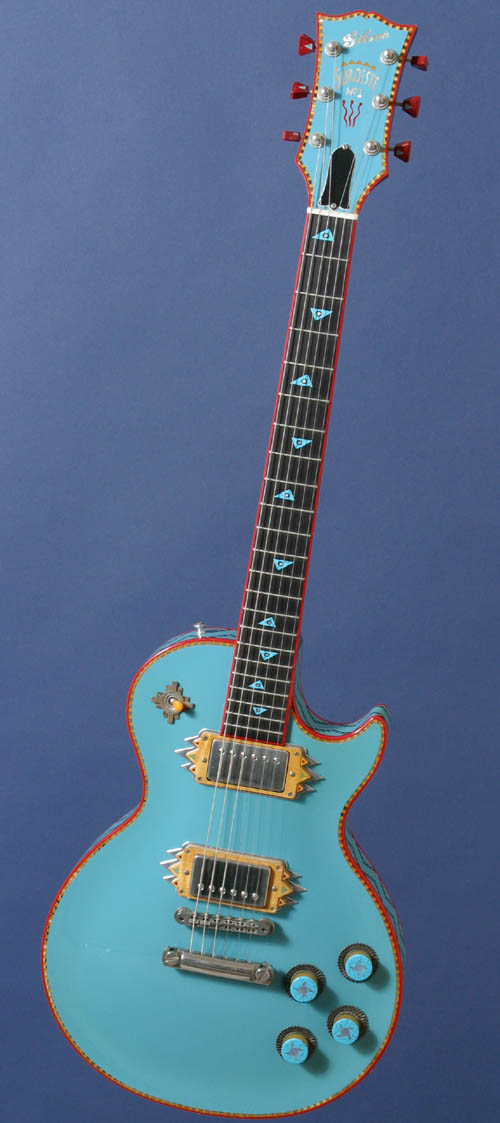 In 1993 Gibson's newly formed Custom, Art & Historic division hired Nashville graphic artist Jim Landers to create a series of "art" guitars. Landers designed two models with ornamentation and materials inspired by the American Southwest. Custom Shop master luthier Phil Jones built the guitar, and the Custom Shop unveiled the "Suroeste" - Spanish for "southwest" - at the 1994 winter NAMM show. (Landers also designed a Gibson Centennial Les Paul with solid gold trim.)
This guitar is the second of the Suroestes and features genuine turquoise ornamentation as well as a turquoise finish color. (The other Suroeste has a natural finish.)
This one-of-a-kind guitar (inv. #EB5798) is in excellent condition. It was pictured in the 1994 book Gibson Guitars: 100 Years of an American Icon, and it comes with a hardcover copy of the book signed by Landers, Jones and author Walter Carter. With original hard case it is offered at $18,000.
This instrument is SOLD
For further appreciation...