Lefty 1961 Fender Strat
---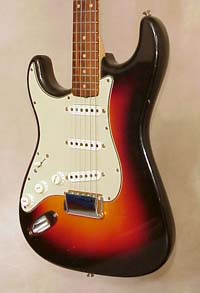 It's rare to find a 1961 Fender Stratocaster in the exceptionally fine condition, and it's extremely rare to find a left-handed model.
This beautiful instrument (inv. #EF6334) has all the right features for the period, including the "thick slab" rosewood fingerboard, three-tone sunburst finish, tremolo bridge and hard case (SOLD).
This instrument is SOLD
For further enjoyment...
Full view
Close of body
Bridge cover
Pickups and controls
End of fingerboard
Headstock
Back of headstock
Serial number plate