Gibson Chet Atkins Super 4000
---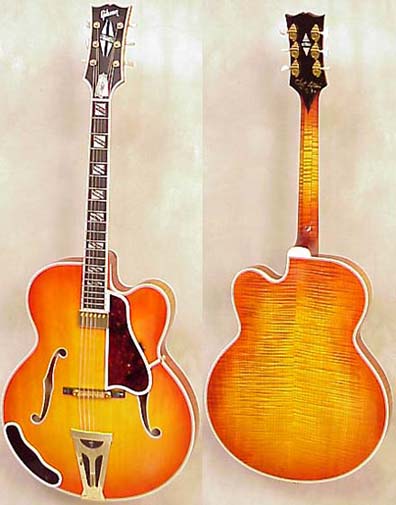 Q: How do you top a Gibson Super 400, the all-time king of archtop guitars?
A: Just add a zero.
Well, actually, Gibson did a lot more than just add a zero to the model name to come up with a Super 4000. First, Gibson enlisted Chet Atkins (that alone is worth an extra zero) to help with the design, and the result was a thinbodied cutaway version of the 18" wide Super 400.
In the spirit of the original, Gibson went "over the top" with every aspect, including the super-striped maple back, special tailpiece, special headstock inlay (front and back), topped off by Chet's dated signature on the back of the peghead.
This example, inv. #AR3488, is one of the first, made in 1996, and is unsold with original warranty. With leather covered case (with zipper cover) (SOLD).
This instrument is SOLD
For further enjoyment...
Close of front
Pickguard
Armrest
Bridge and tailpiece
Cutaway
Cutaway from back
Neck heel area
Closeup of back
Peghead
Back of peghead
Signature
Rims (side views)