Gibson Art Mandolin #1
---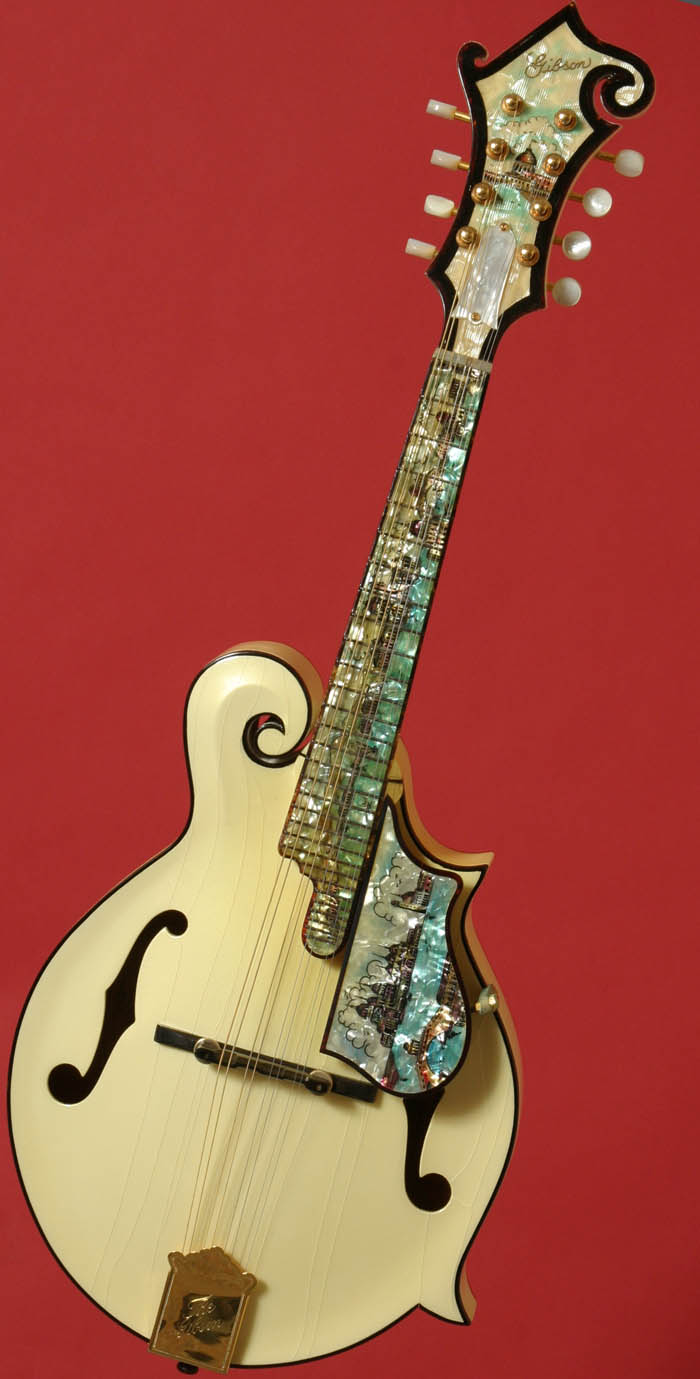 At the end of 1987, years before Gibson had a Custom division, Gibson CEO Henry Juszkiewicz gave luthiers Jim Triggs and Greg Rich "carte blanche" to customize a few Gibson instruments. Their first creation was this spectacular F-5 Master Model mandolin, featuring a pearl white (metallic) finish, tortoiseshell celluloid binding, a crest hand carved on the back, and scenes of Venice handpainted on the pearloid fingerboard, pickguard and headstock overlay.
Gibson debuted these new "art" instruments at a vintage guitar show in Nashville in March 1988, and then a few months later at a bluegrass event in Owensboro, KY, noted mandolinist Butch Baldassari bought #01. For the next 15 years or so, he used this mandolin to add a visual flair to various facets of his work, and it was also featured in a Gibson exhibit at the Country Music Hall of Fame and Museum that ran from 1994-99. In the meantime, this instrument inspired Gibson to create more "art instruments" and to include "art" in the official name of its "Custom Shop" - the Gibson Custom, Art and Historic division.
Gruhn Guitars is offering this mandolin is offered at $25,000, with its original hard case and a collection of memorabilia featuring this mandolin that includes:
Information card from the museum exhibit
Letter from Jim Triggs
SoundArt Recordings brochure
Flyer for Baldassari's Baroque to Bluegrass show
Baldassari publicity photo
Nashville Mandolin Ensemble publicity photo
For further enjoyment...
Close of body
Pickguard
Fingerboard
Headstock
Back of headstock
Back of neck
Back view
Back of body