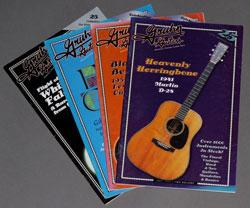 We hope you enjoy browsing our new website. We're excited to share it with you! We have made several improvements to the Inventory section including photo thumbnails on the full inventory pages and will be including several more photos of each instrument.

Be sure to take a look at our newsletters and featured inventory archives, too. We plan to send newsletters, featured instrument information and Gruhn Guitars news through our mailing list so if you haven't already, please be sure to sign up!

Many of you are familiar with the printed inventory lists and mail order catalog which Gruhn Guitars would send by mail prior to the Internet age. Our goal was not only to improve our web presence, but also pay homage to our past by going back to the look of our mail order catalogs.

Please feel free to reach out to Sarah, our Operations Manager, at sarah@gruhn.com or 615.256.2033 with your thoughts on the new site.