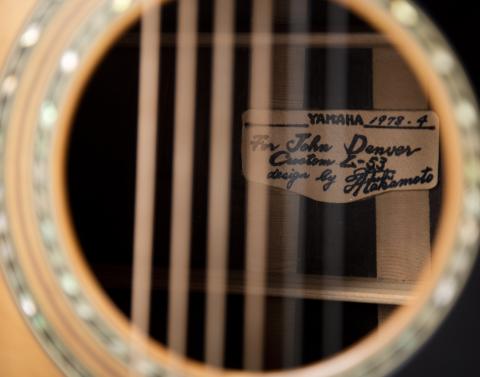 Gruhn Guitars Offers Guitars Created for John Denver
Gruhn Guitars is honored to offer two guitars built for and used by John Denver. These special instruments are accompanied by documents attesting to their authenticity and specs.
John Denver's influence and importance is immeasurable. He was world-renowned for his musical work as a songwriter, actor, record producer and singer. Denver began his career in the world of folk music and quickly rose to become one of the greatest writers and producers of his time. He composed over two hundred songs and released a hundred more.  He was modest about his great success and stated, "I was never trying to write a hit. I was just trying to write good songs and get a message out, and it was my great good fortune to be popular." He brought great joy through music to a generation looking for hope.
We are also offering a 1975 Baldwin / Ode Model 6510 banjo that was owned and used by the late Pete Huttlinger while playing with John Denver (featured in John Denver's Wildlife Concert on February 21, 1995), banjo head signed by Pete along with concert info and also includes signed Certificate of Authenticity from Pete, padded gig bag.
To learn more about these instruments  click here.
Our offerings include:
1978 Yamaha L-53
The first of our offerings is an acoustic 1978 Yamaha L-53 6-string guitar owned and played by John Denver. This guitar was made for especially for Denver. The fretboard has abalone fret markers and a leather interior sound hole label, cut in the shape of a fretboard inlay. It is signed by famous Japanese guitar luthier Terumi (Thierry) Nakamoto, and reads, "Made for John Denver/Custom L-53." Nakamoto was the head of Yamaha's Research and Development design team at the time the guitar was built. Nakamoto also made guitars for John Lennon, Paul Simon, and Neil Young. This particular guitar was presented to John Denver in 1978.
1984 John Greven "White Lady"
John Greven began his career with us at Gruhn Guitars in the late 1960's through the mid 1970's where he honed his exceptional style for creating magnificent guitars. Denver ordered both a 6-string and 12-string from Greven.  The 12- string was accidentally destroyed when John ran over it with his SUV. The six-string became his personal guitar that he eventually gave to his close friend and band-mate Malcolm MacDonald. Denver used this guitar during multiple Tonight Show appearances. It is constructed of solid spruce flame maple with an ebony fretboard and bridge.  It is inlaid with the white pearl "Goddess" motif on the head, white pearl fingerboard markers and white pearl edge trim.
                                                -