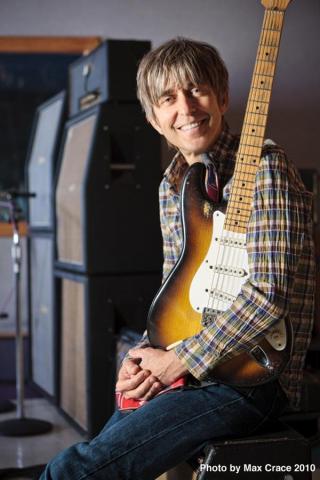 Gruhn Guitars is proud to offer for sale Eric Johnson's 1957 Fender Stratocaster.  Johnson purchased this guitar in 2001 for use as a practice and songwriting instrument in his home. 
After several years, the guitar became his instrument of choice for touring and recording.  The original bridge and middle pickups have been removed and replaced by a set of period correct pickups that were custom wound to Johnson's specifications that better matched the higher output of the neck pickup. The original pickups are in the case pocket along with the original tuners, frets, original back plate and Johnson's case tag.  It comes with a handwritten letter from Johnson outlining his history with, and use, of the instrument and photograph of him holding the instrument. This is a significant memorabilia package from one of the most revolutionary instrumentalists of past decades.
To view the inventory listing for this instrument, please click here.