Instruments of John Denver
Gruhn Guitars is proud to offer two of John Denver's personal instruments for sale to the public.  Each was designed and build specifically for John and both were used extensively through his career.  Each guitar is accompanied by appropriate docuentation as to origin and ownership.  John's music is appreciated by generations, he was inarguably one of the greatest songwriters of modern music.  During his career he release over 300 songs and sold over 33 million albums.
Accompanying the two guitars is a Baldwin/ODE banjo that was owned and used by Pete Huttlinger during many perfomances with John from 1994 to 1997.  The banjo was used on stage during John Denver's Wildlife Concert which was filmed by A&E Television and recorded by Sony Records on February 21st and 22nd in New York City in 1995.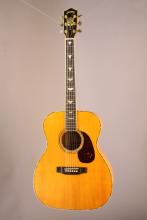 AM8064, 1984 Greven White Lady
VG+++, Sitka spruce top with flame maple neck, back, and sides, mother of pearl top and back edge trim, mother of pearl sound hole trim and "White Lady" peghead inlay, beautifully carved neck heel, gold plated hardware, ordered by and built for John Denver by John Greven and used extensively in the studio and in live performances by Denver, this guitar was accompanied by a 12-string version with the same appointments which was destroyed some years ago, guitar comes with signed letter from Greven detailing the story from order to delivery, OHC ... $70,000.00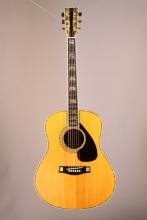 AM8063, 1978 Yamaha Custom L-53
VG+++, spruce top, Brazilian rosewood back and sides, abalone pearl top and back edge trim, abalone pearl trimmed ebony back strip and sound hole rosette, abalone pearl peghead, bridge and fingerboard inlays, gold plated hardware, built in the Yamaha Guitar Custom Shop in Hamamatsu Japan and designed by Terumi Nakamoto for John Denver, interior leather label signed by Nakamoto, comes with notarized letter as proof of John's ownership and photographs of John with the guitar, can be seen in John Denver's "A Rocky Mountain Holiday" video, OHC ... $65,000.00