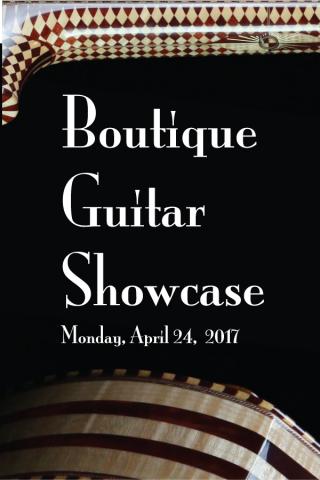 Join us at the shop on Monday, April 24th from 3pm-7pm! George Gruhn and the Gruhn Guitars staff cordially invite you to attend The Boutique Guitar Showcase curated by Jamie Gale featuring 50 unique, world class instruments from more than 30 top guitar makers from around the globe.

"I visited Jamie's boutique guitar exhibit at The NAMM Show in January and found it to be one of the most interesting things I saw at the show. The exhibit consisted of boutique acoustic and electric guitars by a variety of makers from around the world with the common thread being handmade high-end creative and interesting instruments with unquestionable artistic appeal featuring very high standards of workmanship. I believe you will enjoy spending time with these instruments and hope you are able to attend this event." - George Gruhn

Refreshments and drinks will be served. We look forward to seeing you!

A selection of photos of these fine instruments can be found by clicking here.

Click here for the Facebook event page.