1907 Fairbanks Whyte Laydie No. 7
---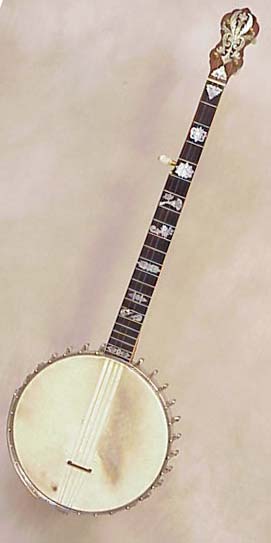 The Whyte Laydie line of banjos from the Boston-based Fairbanks company are among the most beautiful creations -- in sound as well as looks -- of the "classical" banjo era. This 1907 Whyte Laydie No. 7 (inv. #JA2679) is a particularly fine example of the banjo maker's art.
The ornate appointments include elaborately engraved fingerboard inlay and a carved neck heel. It has a 10 15/16" head diameter, cobra hooks and the original "short bump" hard case.
This instrument was pictured on the album cover of Clawhammer Banjo Volume 3 (County 757). In exceptionally fine condition, this banjo is priced at $9,750.
This instrument is SOLD
Also of interest... a rare1923 Fairbanks-Vega Deluxe original 5-string.
For further enjoyment...
Banjo in case with LP recording