1964 Custom Fender Telecaster
---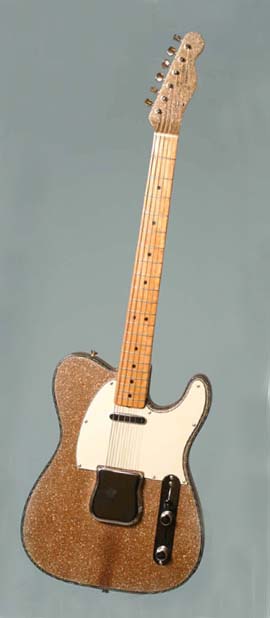 Among the first converts to Leo Fender's solidbody guitars were the country musicians of southern California, who preferred the cutting sound of a Fender Telecaster or Stratocaster over the deeper sound of a hollowbody electric guitar. By the early 1960s, Buck Owens and his guitarist Don Rich had developed a signature sound with their Telecasters that would emerge as a new style of country music, called the Bakersfield Sound.
In gratitude, Fender presented Owens and Rich with two special Telecasters, adorned with a gold sparkle finish on the body and the peghead front that was made from crushed mirrors. The body was bound in a checkered pattern on the front and back. A third guitar -- this one -- was made, and it stayed in the possession of Fender employee George Fullerton. It is documented in Richard Smith's Fender book in a photo on page 191.
This guitar (inv. #EF6677) was made in 1964 and has an L-series number. It is in near mint condition with hard case (SOLD).
This instrument is SOLD
For further enjoyment...
Close of body
Pickguard area
Fingerboard
Headstock
Full back view
Back of body