Stromberg Master 400
---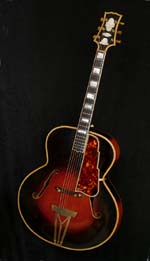 Stromberg archtops are among the most powerful guitars ever built, thanks in part to their huge, 19"-wide body. (Legendary rhythm guitarist Freddie Green used a Stromberg to cut through the sound of Count Basie's band.)
This 1940 sunburst Master 400, Stromberg's top model (inv. #AR3612), was owned by Doug Green, aka Ranger Doug of Riders in the Sky, and was used on his video "Learn to Play the Ranger Doug Way." This instrument is in Very Good Plus condition and is priced, with original hard case, at $45,000.
This instrument is SOLD
For further enjoyment...
Full view -- Close of body -- Upper bass rim area
Pickguard -- Tailpiece -- Bass f-hole
Angled view of neck heel -- Fingerboard -- End of fingerboard
Fingerboard inlay -- Headstock -- Back of headstock
Neck heel -- Back view -- Close of back
Angled close view of back