Jim Reeves Commemorative
---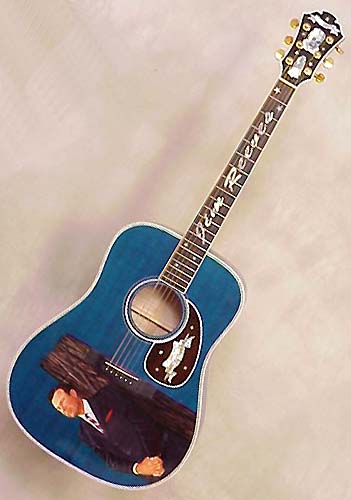 Jim Reeves' mellow baritone voice was so universally appealing that his records continued to chart for 20 years after his death in a plane crash in 1964. The Texas native first hit the charts with the No. 1 country record "Mexican Joe" in 1953 and went on record such standards as "Billy Bayou," "Welcome to My World" and "Four Walls" (the latter written by Roger Miller). His greatest chart success came in 1959 when "He'll Have to Go" (with the memorable opening line "Put your sweet lips a little closer to the phone") stayed at No. 1 for 14 weeks.
The folks at the Tennessee guitar company have paid tribute to this Hall of Famer with the Jim Reeves Commemorative model (inv. #AM4635), a dreadnought size flat top with curly maple back and sides. The elaborate ornamentation is highlighted by a hand-painted picture of Reeves.
This instrument is #008 in a limited edition and, with a hard case, has been reduced from $4375 to $3500.
This instrument is SOLD
You may also be interested in a companion piece, the Faron Young Commemorative guitar.
For further enjoyment...