1937 Martin F-9
---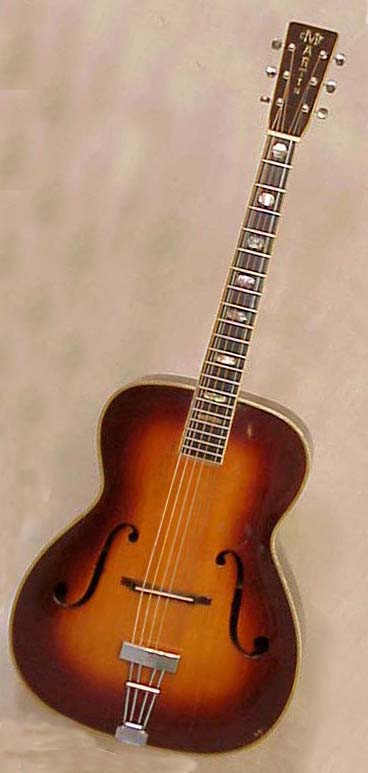 Although Martin's D-45 flat top is the Holy Grail in today's vintage guitar market, it was
not
Martin's top of the line in the
new
guitar market of 1937. That honor belongs to the F-9, which listed for $250 (the D-45 was only $200 at the time). The F-9 was made only from 1936-42 and it is rarer than the D-45; Martin made 72 F-9s and 91 D-45s.
Martin's archtops, made from 1931-42, maintained many of the features of Martin's flat tops. Unlike other makers, who settled on maple as the preferred wood for archtop back and sides, Martin stayed with its traditional woods -- mahogany on the low-end archtops and Brazilian rosewood on the high-end models. Consequently, Martin archtops have their own unique sound.
This 1937 F-9 has been professionally refinished and is in VG+ condition and does not have its original pickguard. It has an excellent sound. With its rough original hard case, it was originally priced at $10,000 and is now offered at the reduced price of $8,000.
This instrument is SOLD
For further appreciation...