Style O, King Biscuit Special
---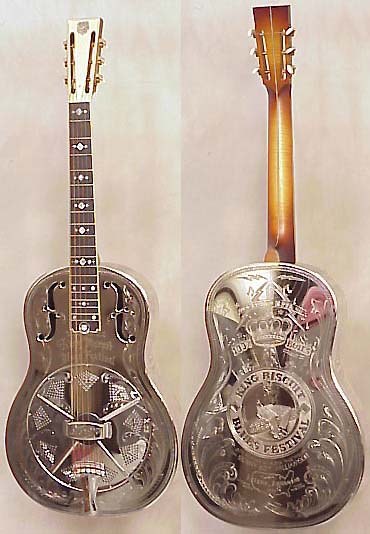 The new National company started out faithfully recreating the great metalbody resonator guitars of the 1930s, and then went on to outdo the originals, as evidenced by the elaborate engraving on this Style O single-cone model (inv. #RG3979)
This presentation-grade instrument was created for the October 1998 King Biscuit Blues Festival, commemorating Sonny Boy Williamson, and was featured article in the Summer 2000 issue of Guitarmaker magazine.
National Reso-phonic president McGregor Gaines came up with the design and David Giulietti did the elaborate engraving. Giulietti is a master engraver who does most of National's engraving. His clients include Deering, Scheerhorn, Stewart-McDonald, First Quality, Paul Beard and Fender. "I put my heart into this job," he says, and he signed this one-of-a-kind piece of fine art with an engraved signature on the back.
With original hard case, this guitar is priced at $8500.
This instrument is SOLD
For further enjoyment...