1990 Benedetto Fratello
---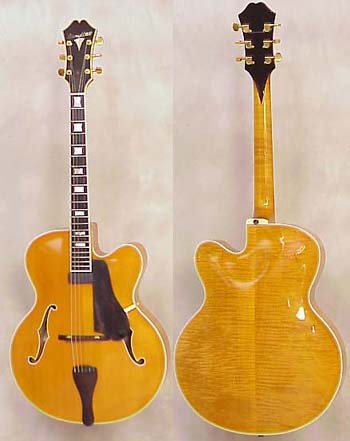 Bob Benedetto is the successor to D'Angelico and D'Aquisto as the leading maker of archtop guitars, except that he's working for Guild now and making very few guitars on his own. In other words, if you wanted to get in line for a new Benedetto it would have to be a custom order, with prices starting at $30,000.
May we suggest a beautiful alternative? This 1990 Fratello (inv. #AR3500) has what has become the classic Benedetto look, with a honey blond finish enhancing the highly figured curly maple, and contrasting ebony tailpiece, pickguard and fingerboard. It's fitted with a floating pickup of Benedetto's own design.
This instrument is in near mint condition, and comes with the original hardshell case. The price has just been reduced to $13,500.
This instrument is SOLD
For further enjoyment...