Ludwig Big Chief
---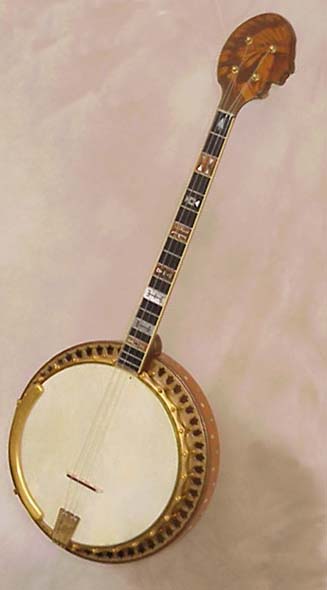 In the Jazz Age of the 1920s, when tenor banjos set the rhythms of the new jazz music, banjo makers pulled out all the stops and designed some of the most ornate and expensive instruments ever made. In the late '20s, Ludwig -- the same company whose name appeared on the bass drum head of Beatle Ringo Starr -- attempted to top Gibson's All American model (which featured a peghead carved into the shape of an eagle) with a banjo built around another symbol of America, the American Indian.
Indian chiefs did not typically play banjos, of course, but the Native American culture provided an exotic motif for the inlay, ornamentation and headstock shape of Ludwig's Big Chief banjo model. The model appeared, unfortunately, just as the Depression was starting and that, combined with changes in music that brought the guitar into the spotlight, meant the end of tenor banjos -- especially the ultra-deluxe models. Consequently, the Ludwig Big Chief is an extremely rare model.
This Big Chief (inv. #JE2591) dates to circa 1930 and is in excellent condition. With hard case, it is now at $7,500.
For full appreciation...
This instrument is SOLD
Body
Tailpiece
Fingerboard end
Rim
Angled view of fingerboard
Fingerboard inlay
Headstock
Close of headstock
Back of headstock
Neck heel
Resonator
Full back view