| | |
| --- | --- |
| | Washburn Ryman LE |
---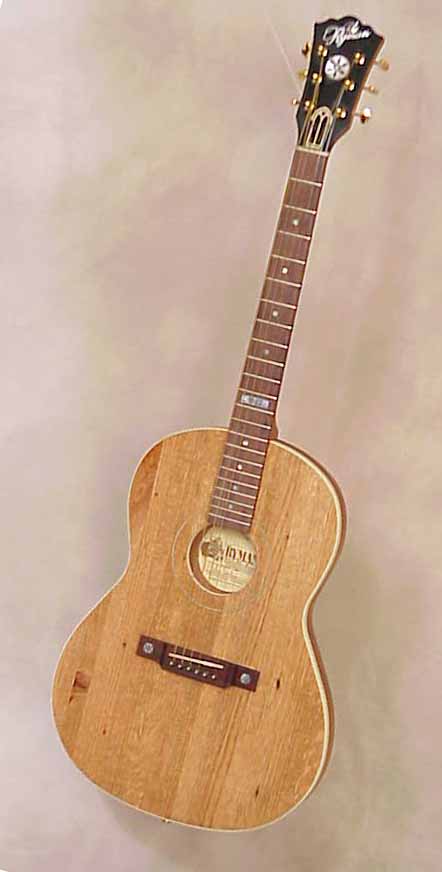 In 1892 a Nahville riverboat captain named Tom Ryman built a tabernacle for a preacher who had recently converted him. The Union Gospel Tabernacle, as it was called, would eventually become world-famous as another kind of church -- the Mother Church of Country Music. The Ryman was the home of the Grand Ole Opry from 1943 to 1974. After a major renovation in 1994, the Ryman is again a major concert venue in Nashville.
The Washburn Custom Shop has taken some of the orignal 1892 oak pews from this historic building and produced 243 special guitars. The tops are of oak from the pews, the back and neck are mahogany. The fingerboard is inlaid with "1892" at the 12th fret, and the peghead has a circular inlay inspired by the carving on the pews. The serial number corresponds to the orignal row letter and seat number on the pew, with the row letter on a gold-plated disk on the back of the headstock and the seat number on the top rim of the top rim of the body. The guitar also has a passive Fishman transducer pickup.
This custom hardshell case is covered in tooled leather and includes a package of private label guitar strings, three guitar picks with "The Ryman" stamped in gold ink, a tooled leather strap, a copy of the Ryman history book Nashville's Mother Church, a certificate of authenticity and century-old nails removed from the orignal pews.
This instrument is SOLD
For further enjoyment...
Guitar with pew (from product brochure)
Pew seats ready to be made into guitar tops