1972 Gibson Firebird V
---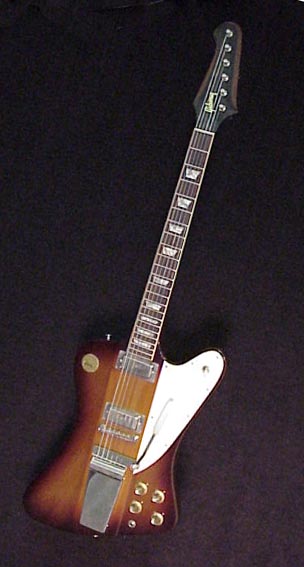 Gibson's original Firebirds from 1963 represented a radical departure in guitar design (they were, in fact, created by an automotive designer), with reverse body and even reverse headstock design. Gibson then began meddling with the design (reportedly in response to a complaint by Leo Fender that it infringed on his offset-body patent), and the Firebirds flew off into oblivion.
In 1972, however, Gibson went back to the original design and reintroduced the Firebird V, commemorating the limited editon with a medallion on the upper bass bout. Gibson shipping records show 366 of these "Medallion Firebirds"and this is #113. Like other guitars made in 1972, the Firebirds have pickups with "Gibson" embossed on the cover.
This instrument (inv. #ED2039) is in exceptionally fine condition with original hard case (SOLD).
This instrument is SOLD
Knobs and tailpiece cover