1958 Gibson ES-335
---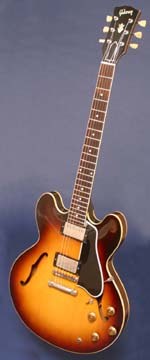 What was the most successful model introduced by Gibson in 1958? It wasn't the sunburst Les Paul Standard (they went out of production two years later). Nor was it the legendary Flying V and Explorer (they barely even made it into production before they were discontinued). The most successful model was the ES-335, which was an immediate success and has never gone out of production. Moreover, the ES-335 introduced a new type of guitar -- more innovative than the more publicized radical body shapes of the V and Explorer.
The ES-335 combined tradition, modern style and functionality to the ultimate degree. The arched top contour was the concept on which the Gibson company had been founded, and the f-holes were a Gibson innovation dating back to 1922. The thin body was a modern style that had been available from Gibson for only three years, and the symmetrical, double-cutaway body was a first for any archtop maker. The real innovation was in the inside, in the form of a solid maple block that extended from the neck to the endpin, so that the ES-335 functioned like a solidbody. There was nothing like it before, and in the opinions of many players, there's still nothing like an ES-335.
This beautiful sunburst example (inv. #EH5674) from 1958 is in exceptionally fine condition. With orignal hard case it is SOLD.
This instrument is SOLD
For full appreciation...
Full shot
Close of body
Angled view of treble horn
Controls
Bass side f-hole
Upper body
Pickguard area
Neck
Back of neck
Headstock
Back of headstock
Full back view
Close of back
Upper back